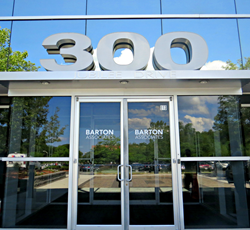 Boston, Massachusetts (PRWEB)
June 26, 2015
Barton Associates, an industry leading physician, PA, and nurse practitioner locum tenens company, announced that it will be adding over 150 employment opportunities for new graduates in 2015. Barton Associates (Barton) is headquartered in Peabody, Massachusetts, with additional staffing centers in Hardwick, Massachusetts; Enfield, Connecticut; Keene, New Hampshire; Austin, Texas; Jupiter, Florida; and with an office in Tempe, Arizona set to open this coming August.
In response to significant growth in Barton's locum tenens recruiting and staffing business, and the corresponding need to hire additional healthcare staffing professionals and support staff to foster this growth, Barton recently relocated headquarters to 300 Jubilee Drive in Peabody, Massachusetts. Barton doubled its existing footprint of 26,000 square feet to over 50,000 square feet, offering its employees a completely renovated working environment. Furthermore, Barton has opened two new offices just this past year, and seen expansion in each of its six locations.
With the United States in the midst of a healthcare provider shortage, many healthcare organizations use locum tenens providers to maintain optimal staffing levels, improve patient access to healthcare, ensure continuity of care, and to maximize revenue generation.
"All of the demographics indicate a growing demand for a limited supply of doctors. The Association of American Medical Colleges (AAMC) projects a shortage of 90,000 physicians by 2020, and expects that number to reach 130,000 by 2025," said Barton's President and Chief Operating Officer, Rob Indresano. "Meeting the physician shortage will create a world of opportunities and career growth for our employees."
To meet this need, Barton Associates is seeing record hiring numbers of recent graduates.
"We're growing very rapidly, due to the climate of the market, our business model, our amazing team, and our willingness to invest in hiring and developing exceptional talent. In 2014 we opened large offices in Austin, Texas, and in Keene, New Hampshire, and just announced that we will be opening a new office in Tempe, Arizona in September of this year," states Jonathan Retchin, Barton's Director of Talent Acquisition.
"We provide a career platform for entry-level new and recent grads to rapidly grow their income and their careers. We're excited to bring so many career opportunities to the communities that house our operations," Retchin continues.
Barton Associates plans to bring significant job creation to all of its offices' surrounding areas, establishing approximately 150 new permanent, full-time jobs, and providing career and job training for approximately 500 individuals annually. Barton's staff is primarily composed of college educated professionals seeking an opportunity for career growth and development. As a part of its career development program, Barton promotes from within, leading to long-term, lucrative employment opportunities for the local community.
To learn more about Barton Associates and to review current job openings, please visit http://www.bartoncareers.com.
Related Demographics Press Releases