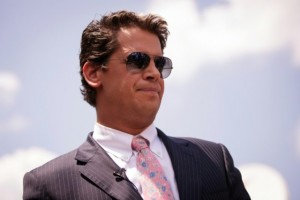 Milo Yiannopoulos, a firebrand editor of right-wing news site Breitbart, has lost a book deal and a speaking engagement over comments in which he seems to condone pedophilia.
The rightwing provocateur and staunch fan of President Donald Trump is no stranger to controversy: he was banned from Twitter for provoking online harassment of black actress Leslie Jones in July.
And the University of California at Berkeley cancelled a planned speech by Yiannopoulos this month after protests against him turned violent. Trump reacted by threating to withhold federal funds from the university.
This time Yiannopoulos, a 32-year-old Briton, caused a stir when a video was leaked on Twitter over the weekend in which he defends men having sex with children as young as 13. In the tape he is talking to radio hosts in a video chat.
"No, no, no. You're misunderstanding what pedophilia means," Yiannopoulos says.
"Pedophilia is not a sexual attraction to somebody 13 years old who is sexually mature. Pedophilia is attraction to children who have not reached puberty," he adds.
He calls the idea of consent "arbitrary and oppressive."
Yiannopoulos, Breitbart's technology editor, is a flamboyant firebrand reviled by his critics as racist and misogynistic but who casts himself as a gay crusader against "political correctness".
He is often portrayed as a leader of the so-called alt-right — a white nationalist extremist fringe that has found a home on Breitbart's pages — although he has sought to distance himself from the movement.
He is however a vocal supporter of Trump — nicknaming the billionaire "Daddy" during his election campaign.
Yiannopoulos was to have spoken this coming Friday at an event called the Conservative Political Action Conference. But now the invitation has been withdrawn.
"Due to the revelation of an offensive video in the past 24 hours condoning pedophilia, the American Conservative Union has decided to rescind the invitation," said Matt Schlapp, chairman of the group that sponsors the conference.
The publishing house Simon & Schuster said it was cancelling publication of "Dangerous," a free speech manifesto and memoir by Yiannopoulos.
In a statement posted on Facebook after the speaking engagement was cancelled, Yiannopoulos said he himself had been a victim of child abuse and was repulsed by it. He said he was only "partly to blame" for this latest uproar.
"My own experiences as a victim led me to believe I could say anything I wanted to on this subject, no matter how outrageous. But I understand that my usual blend of British sarcasm, provocation and gallows humor might have come across as flippancy, a lack of care for other victims or, worse, 'advocacy,'" he wrote.
"I deeply regret that. People deal with things from their past in different ways," Yiannopoulos said.afp