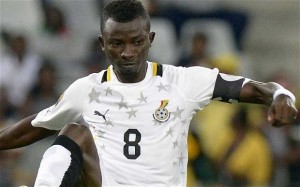 Since the exodus of Ghanaian players to Europe began gathering momentum in the
late 1980s, the national team set-up also underwent a transition, where it
became relatively easy to access footballers playing outside Ghana.
Indeed, it wasn't always like that. The preceding trend placed emphasis on
making the local league – though an amateur league until 1993 – relevant by
recruiting national team players from there.
It was the norm. When Ghana's league was properly set up in 1958, Director of
Sports Ohene Djan outlined one of the aims as "providing a constant flow of
materials for international assignments." And it worked. Ghana became an
African football powerhouse, winning four Africa Cup of Nations titles in
the space of 19 years – from 1963 to 1982 – all with immensely talented
locally-based amateurs.
Then the thirst for professionalism set in. Players saw their contemporaries
basking in the European spotlight, and it inculcated a burning desire. By
the early 90s, when the seeds of professionalism were just about to be sown
in the Ghanaian top-flight, the culture of going to Europe to pursue
professional dreams had become a mainstay.
Gradually, foreign-based players began displacing their locally-based
counterparts from the national team with their claim to professionalism. And
with that, the culture of disregarding the potential of local players was
born.
This culture proved pervasive, persisting into the Ghanaian top-flight's early
professional years, merely starting with a justification hinging on the huge
gap in professional standards. But as it evolved, the crux of the
justification became compromised. Before we knew it, we had reached a level
where the competence of home-based players was just being lazily dismissed
without comprehensive assessment– an unfair generalisation that continued to
play to the advantage of foreign-based players.
And with that, the local league's relevance inevitably succumbed to a gradual,
painful process of withering, losing it fuelling public interest and
trademark liveliness. The Ghana Premier League is now a pale shadow of its
former glorious self.
These days, this culture – and the league's ever deteriorating predicament –
seems to have become entrenched. Most Ghanaians have grown oblivious of the
gloomy significance of how the MVPs for the last six straight Ghana Premier
League seasons have been victims of this self-destructive culture, everyone
of them failing to break into the Black Stars.
There is a deeply flawed conceptualisation of the Black Stars as a place for
gods, a place beyond the accessible reach of players such as those that
participated at the African Nations Championship.
That group, like the league back home brimming with talent, is never going to
be considered a viable recruitment field for the Black Stars.
In 2006, Ghana sent four home-based players to the World Cup (three outfield
players). In 2010, it reduced to three, two of them goalkeepers. In 2014,
there's sure to be a reduction. Scratch that; there might be none at all.
The home based player, it seems, will continue to wallow in a stigmatic
stereotype of not being good enough, whilst any joke of a footballer plying
his trade even in lower tiers abroad will continue to benefit from the myth
of being automatically better.