He's given us memories we will take to our grave, but Ronan O'Gara knows there's more to life than rugby. He opens up to Barry Egan about Donal Walsh's death, hurtful rumours about his marriage and his new life in Paris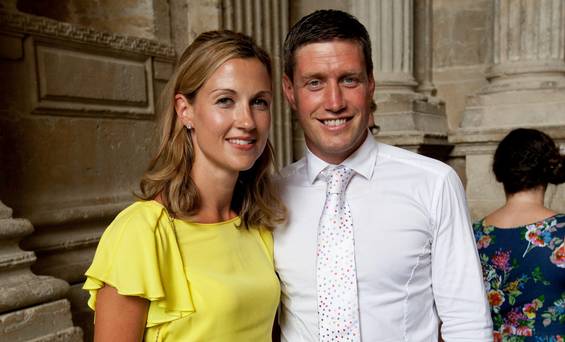 – 02 February 2014
Ronan O'Gara helped carry Donal Walsh's coffin at the funeral in Tralee last May. He learned about life from the heroic young man who was with us all too briefly. "I think he transformed the mindset of this country with one speech," Ronan says.
';
document.write(s);
return;
}
window.google_adnum = window.google_adnum || null;
google_ad_client = "ca-pub-9024837700129787″;
google_ad_output = "js";
google_ad_type = "text";
google_ad_channel = '9868211012,7383345241';
google_max_num_ads = '2';
google_skip = window.google_adnum; /* insert this snippet for each ad call */
I suppose he taught us all to live in the present.
"Absolutely. And I have done that. I was doing that before anything happened," he says. "He just sent my mind into overtime. His funeral was exceptionally sad but it was beautiful in another way," Ronan says.
Your rugby career began when you were 16, I say. His life was over at that age. Does that put it all into perspective?
"Exactly," he says wistfully. "These are the most important things. You have to be astounded by the level of intellect and capabilities of Donal Walsh. You think a lot about him … "
Ronan will be at the Ireland v Scotland game this afternoon at the Aviva stadium in Dublin. However, the 36-year-old won't be depressed that he's not out there in the green jersey.
"Most definitely for the November internationals there was a bit of that inside me," he says referring to anguish at having been retired from playing, "but now I have moved on. Our ex fitness coach in Munster passed away from Motor Neurone Disease at 40 years of age with a young family. So I kind of live my life a little bit differently ever since that has happened."
The sad passing of a sporting colleague notwithstanding, there have been lots of changes, emotional and geographically, for O'Gara of late. He retired from playing rugby last May to move to Racing Metro club in France as a specialist kicking coach. It was the end of a 15-year career dotted with prizes and accolades (128 caps for Ireland, scoring a record 557 Six Nations points, a Grand Slam in 2009, Triple Crowns in 2004, 2006 and 2007, touring on three occasions with the British and Irish Lions, Munster's most decorated player, scoring 2,625 points).
Last summer, the rugby superstar and his wife Jessica left Cork to embark on a new life in Paris with their four kids: five-year-old twins Rua and Molly, three-year-old JJ and baby Zac.
What does Paris have that Cork doesn't? I say, half in jest.
His eyes light up and he smiles.
"That's a great question. I am still trying to figure it out!"
Asked does he get out much in the French capital, boulevarding on the Champs-Élysée and Montmartre, he smiles and says: "I have four young kids and another baby due in April. So it is pretty hectic at the minute."
Is his life more watching Peppa Pig and Dora The Explorer than watching old rugby videos?
"Yeah. That has been bigger and more important than anything that has happened on the rugby pitch," he says, meaning being a father. "I have been lucky that I have met a great girl/woman, whatever you want to call Jessica."
Perhaps his proudest achievement was marrying long-term partner, teacher Jessica Daly, on July 6, 2006, at UCC's Honan Chapel, followed by a reception in the Fota Island Golf Resort. "A match made in heaven as O'Gara marries sweetheart," noted The Examiner. He is clearly besotted with her.
"She determines my happiness every day," he says, "because if she is not happy I won't be happy and the kids won't be happy. That's the reality of it. From a selfish point of view the rugby has been so much more enjoyable because I have a happy home."
Some players in rugby and football when they retire, their lives seem to fall apart …
"I can see where you are coming from but I think I was lucky enough to meet Jessica at 18 years of age. Going out with her – sorry. I knew her from 12 years of age."
Ever since he was a teen, O'Gara's life has been all about one thing: playing rugby. He must have often felt institutionalised – embedded within an organisation and system of Irish rugby and culture. He nods. "You are 100 per cent correct. There is many a day when everyone feels like a sheep. Then it ends. And it ends very suddenly. And you're out in the real world."
And how does it affect you psychologically when it does end?
"It is difficult at times. No doubt about it. You've gone from the herd mentality. You're an individual. You have to find out things for yourself. Book your own air flights. Get yourself to the train station."
O'Gara – like that other Cork man Roy Keane – sometimes has too much to say. He speaks with naked emotion, raw candour, and even that rare commodity in sportsmen, forthrightness. As well as being exercises in unflinching truth, his two books (My Autobiography in 2008 and 2013's Unguarded) were rollicking reads, while the RTE documentary, ROG, aired on January 2, was the most-watched programme on Irish television in a long time.
Some say he is the greatest number 10 that ever graced the green jersey. He's Ireland's most capped Test player – though Brian O'Driscoll is due to overtake him today – and highest points scorer ever.
ROG has given many of us memories that we will take to our graves. Michael Noonan spoke for most of us when he said at O'Gara's sold-out testimonial dinner at Cork's City Hall on October 24 last year that he recalled his almost cinematically perfect dropkick goal against Wales in 2009 to win the Grand Slam for Ireland with two minutes to go. "It runs like a tape behind my eyes when I think of O'Gara," the Finance Minister said. That's the beauty of sport. That's why sport and the Irish nation are so inextricably linked.
Born on March 7, 1977, in San Diego, California, ROG moved to Ireland when he was young with his family. His brogue is heavily Cork, as is his wit.
I give him a coffee table book on Paris in the 1930s as a present to warm him up. As it turns out he doesn't need warming up. He is a gas ticket. He laughs a lot. You can see why he is friends with Anne Doyle. "Anne is a lovely lady," he smiles. "She's great fun." So is he. When Ross O'Carroll Kelly tweeted last May, "BREAKING: CBS want to make a comedy starring me, ROG and Johnny Sexton as flatmates in Paris. It's going to be called Two and a Half Tens," he retweeted it that evening.
Last week, when I told people I was meeting O'Gara, all of them without exception had a question or a thought that they wanted me to impart to the living legend of Irish rugby.
Everyone in Ireland has an opinion of you, I say. What kind of man is Ronan O'Gara?
"A simple man," he says when I meet him in a suite in 25 Fitzwilliam Place in Dublin 4 on Thursday. He is wearing a crisp white shirt. His matinee idol good looks are still boyish at 36. He looks like Leonardo DiCaprio before he lost his looks.
"I suppose if you've been lucky enough to play rugby for as long as I've played it, then I think people are entitled to have an opinion," he says. "I suppose a few people, like anyone, would only know what I'm really like. You'd have to ask Jessica, wouldn't you?"
When you are sitting on your own in Paris, and Jessica is in bed and the kids are asleep, what goes through your mind? Do you look back on the past?
He shakes his head. "No. I look forward, to be honest. I have been extremely fortunate to play with two great teams. And I gave it my best shot when I played for Munster and I played for Ireland. So it was a really special time in my life … "
I ask him which gave him more satisfaction – winning the Heineken Cups with Munster or the Grand Slam with Ireland?
"I think the Grand Slam," he answers. "When you play for your country, it is the biggest thing. But from a standard point of view, international rugby is higher than European rugby. So it is important that people appreciate that. You test yourself against the best in the world in a green jersey. And you test yourself against the best in Europe in a red jersey."
What gives maybe an insight, profound or otherwise, into O'Gara psychologically was something he said in the recent documentary: "The highs don't ever match the lows." I imagined him forever haunted by missing crucial kicks and by being dropped by Ireland.
"Not haunted," he answers immediately. "When you care about something as much as I did, and as much as any other international rugby player does, it is important that people appreciate the game doesn't end or start after or before the 80 minutes. In terms of the spectators point of view, it does."
He says he is very definitely not sitting at home in Paris agonising endlessly over past games that could have gone better for him.
But still "the highs don't ever match the lows" is an intriguing thing to say. You'd expect to hear it from a character in a Samuel Beckett play and not from one of Ireland's sporting immortals.
Is the joy of the Grand Slam dropkick not more powerful than the pain of being dropped by Ireland coach Declan Kidney?
"Oh, far, far surpasses that, but I think adversity causes a lot of people to break. Others to break records."
I ask O'Gara what stopped him from breaking.
"That's a good question. I suppose the support of team mates. People I trust. Family. Friends. And maybe a competitive spirit deep inside me."
Ronan said recently on the RTE documentary, apropos of being dropped to the bench by Kidney in favour of Sexton, that: "I think Declan enjoyed playing Sexton."
I ask him to explain the extraordinary remark in the cold light of day, saying it was a testament to the kind of player he was that he was brave enough to express how he felt …
"I think I got that hopefully from my parents and my team mates. I think it is very important that if we disagreed on something, we discuss it and we find a solution and we move on. While other people, I think, deal with it differently."
As someone on the coaching side of things now, do you think you should have been given a chance to redeem yourself after a bad game rather than just be dropped?
"Oh no, no!" he exclaims. "There is not one bit of regret left inside of me. I can see from the coaching point of view nowadays. It is so much easier when you press rewind on the computer. Sport is live. It is here. It is now. It has won people's reactions. These aren't robots or computers you are dealing with. These are individuals, human beings. We all make mistakes. We all do great things. That's what happens in sport."
What was the lowest point on the field?
"Too many to mention. But … does it haunt me?" he asks rhetorically. "No. You deal with it and you move on and it makes you a better person."
Last May, Jessica said in an interview that her husband in her view was not treated fairly by Kidney and the IRFU in the months before he retired.
"The way the last season ended for him was dreadful. I don't mind saying that," she said.
"It was awful. I felt it would have been great for him to have one last day at the Aviva, he could have been clapped off the field after all he'd done."
The lowest point off the field was almost certainly around the time of the World Cup in France in 2007. Ronan and his wife bore the brunt of a succession of hurtful and unfounded rumours about their marriage.
"I was supposed to have run off with one of Jess's sisters – not sure which one," he wrote in My Autobiography in 2008.
"Jess was supposed to have kicked me out of the house. I was supposed to be living in an apartment in Tralee with someone else, but not one of Jess' s sisters. People repeating these stories were always convinced about their accuracy. They never had any doubt in their vicious minds. One of Jess's brothers-in-law is a Garda inspector and he had it on 'good authority' from another guard that I was gone from Jess and away from the family home. Jess's brother-in-law put him straight but how many times were these stories passed on, unchallenged," he wrote.
I ask him how did he and Jessica deal with it all?
"That was only a very small period of time. I played, I was in the shop window, for, whatever, 13 years. You know what I mean? There is going to be stuff like that."
But as a human being to have your marriage horribly distorted with lies like that …
"That goes with the territory. Do you how what I mean? Myself and Jessica and our close friends know what the reality is. We just get on with it."
It must have been hurtful?
"At the time it was, I can remember … ." he says. Understandably he isn't overly keen to revisit that most painful time in his life. Nor does he want to amplify the unfounded rumours of gambling and large debts around the same period by talking about it now.
"I love my wife and I think she loves me," Ronan also wrote in My Autobiography.
The words "I think" caused fevered linguistic analysis of the text as if it were the Dead Sea Scrolls. It created a new uncertainty in idle minds about Ronan and Jessica.
"It was incredible. Incredible," he says now. "But that goes with when you are losing games, too. Everything comes down on you."
I change the subject. I ask him to clarify what he meant by something he once said that fascinated me: "We all have bitterness in Munster and that is a good trait."
"Over the years," he explains, "we were so close in Munster and there was a great bunch of team mates – for use of a better word – brothers, who really looked after each other and if we felt that one of our players wasn't selected on the Irish team, that would be worked on from a group's point of view as opposed to an individual's point of view. So if we felt someone like, for example, John Kelly wasn't getting picked enough in the Irish team, we'd be bitter about that. And we'd try and achieve that for John as opposed to John achieving that for John. We were told that if the Munster team were going well there would be more of ye on the Irish team. That's exactly what's happening. Look at it now – the Leinster team is going really well."
When you are in Paris and watching Leinster play are you hoping they are going to lose?
"No, not any more," he laughs. "There were definitely times when I wanted that to happen, because it gave me a better chance of playing for the Irish team."
He is obviously an intelligent, even wise, man.
"You have to consistently learn in this business," he says. "Your ability to learn every day, to be challenged. No one has all the answers but the cumulative effect of people's wisdom makes you a far better person, better player."
Is returning to Ireland as a coach one day in the back of his mind?
"Yeah. I'd love that to happen, but I don't really think … I know what I'm doing this weekend and I know when Racing's next game is, but apart from that…"
Could you see yourself coaching Munster? Even Leinster? "Stranger things have happened, yeah, for sure."
Would he find the thought of one day coaching the Ireland team daunting?
"Not daunting at all," he answers.
It's time to leave the great man alone with his thoughts once more. After watching the Ireland game, he will be flying home to Jessica and the kids in the City of Light.
I ask him would they all like to move back to Ireland one day.
"I don't think we're in any rush. Aside from the rubgy opportunity that I'm getting in Racing Metro – and that is a selfish point – I think it is a great opportunity for Jess and the kids and the family in Paris," he says.
"Hopefully in years to come they'll appreciate the opportunity of being able to speak a different language. I think it is a good opportunity for the family as opposed to a good opportunity for me."
In his newest position as brand Ambassador for Viviscal Man, Ronan O'Gara will help to highlight prevention strategies for thinning hair in men with Viviscal, a clinically proven supplement, and encourage Irish men to take action to avoid thinning hair. Viviscal Man is available from Boots, leading pharmacies and health stores nationwide and online. Price: €49.95 Visit www.viviscalman.ie or phone 1890 601801